Echobis : Polyrhythmic Creative Delay : Audio Effect
€18,90
Echobis – Polyrhythmic Creative Delay (Audio Effect – AU and VST 64-bit Mac/Windows,  native M1 on Mac)
64 bit VST2 AU
Note: minimum supported versions
for Apple DAWs Garageband and Logic is 10.
Overview
 Echobis :: Polyrhythmic Creative Delay :: Audio Effect
"Build mesmerizing rhythmic atmospheres.
Get fresh new grooves on the fly from your drum loops and much more"
Overview:
The two delay-lines can be mixed, panned, cross-feeded.
And each of them allows very quick setting of many tempo divisions.
Polyrhythmic echoes have never been so easy.
Echobis also gives you:
 *Two amplitude and pitch modulators synced to the delay times!
 **Two granulizers and filter pairs in the feedback signal path.
 Plus powerful extra controls to enhance its character: compressor, flutter (analogue style drift), cross-feedback.
 83 Factory presets included.

*The amplitude and pitch modulators are sensitive to the audio input onsets.
This mean that they accurately follow the level of the input and keep the modulations in sync with the echo repeats.
The modulators are inside the feedback loop, so that modulations deepen more and more at each repeat.
**The granulizers, instead, are free-running with adjustable rate,
but still inside the feedback loop. Thus allowing incremental drifts.
The GUI is resizeable, featuring peak meters for the two feedback levels.
11 GUI themes ready to use, also you can make your own.
Price: 9.00 € intro price until June 29 2022
Available as 64-bit AU and VST2 plug-in: Mac(native M1 and intel) and Windows(intel).
Check the video on YouTube, or just download the demo plug-in and try it yourself. https://youtu.be/Fa8w5fJaTNg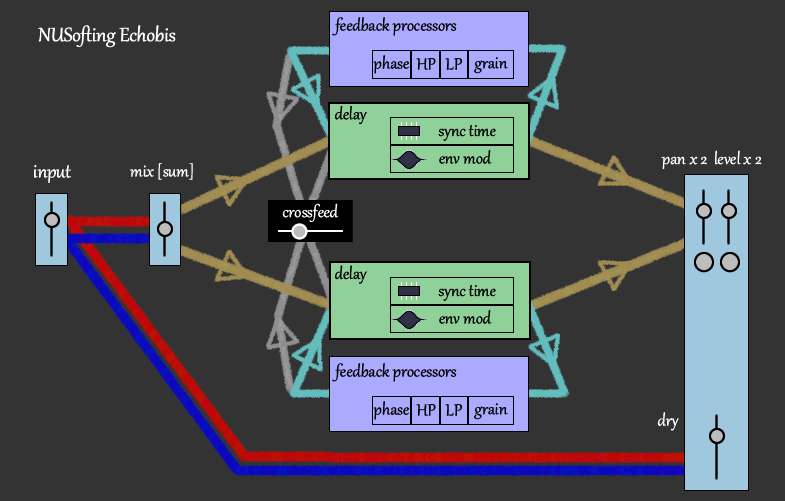 Echobis Features:
For each delay-line, 1 and 2:
– Delay time in milliseconds or tempo sync: 1/32 to 32/32 (or 1/24 to 24/24).
– Echoes amplitude and pitch modulation: with rate division from 1/1 to 1/5
of the set delay time.
– Echoes granulizer: pitch (semitones) and rate (Hz) controls.
– Echoes Filters LP and HP, 12dB/8va.
– Echoes gain (feedback gain).
– Echoes Phase inverter.
Master controls:
– Levels, pans, input mix.
– Random delay modulation: flutter : two levels.
– Echoes decay level compressor : strong/soft/off.
– Crossfeed level: "eight" figure path : Delay 1 to 2 and 2 to 1.
Others:
– The plug-in toolbar, beside what you would expect, features a *randomizer ribbon*
and a colour scheme selector, with many schemes (themes) already built-it.
(You can make your custom theme/appearance editing a very simple text file)
Tech specifications:
Mac: VST2 and AU, macOS 10.9 and above
(64-bit universal: Apple Silicon and Intel)
PC: VST2, Windows 64-bit.
Note: minimum supported versions
for Apple DAWs Garageband and Logic is 10.
No copy-protection:
Buy it once and you can do what you want* with it.
(*on the computers your personally own)